Home
Company Profile
Products & Services
Suppliers
- ISP Cable Joints,
Heatshrink, Duct
Sealing Systems
Contact


Etech Components
e: sales@etech
t: +44(0)1744 762 929
f: +44(0)1744 762 930

Navigate to: ISP Products Home | ISP Duct Sealing, Duct Seal

Industrial Support Products - ISP Duct Sealing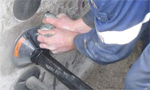 Fire, Gas, & Water Tight
Wimes Compliant
Fire resistant to BS EN 1366-3:2009
Used by major Water & Electrical Utilities


ISP Duct Sealing Systems – Fire, Gas & Water Resistant

Underground cables and pipes entering buildings, can allow gas or water penetration if they are not sealed correctly. Gas which escapes can be particularly dangerous, causing explosions and fire where the damage can run into very high figures.

Rain and high ground water levels that flood into buildings through ducts, can cause extensive damage to equipment.

ISP / Filoform have developed an effective answer to these problems with their range of duct sealing products.

For decades, these products have been widely used by several network operators, gas / water and electricity distribution companies, telecom companies and building contractors in the UK and the rest of Europe because of their advantages:

100% Gas and Watertight
Resistant to Hydrogen Sulphide /Methane and many other Gases
Fire rating on all duct Sealing Products – in accordance with BS EN1366-3:2009
ATEX Compliant
WIMES Compliant
Can be used in any shaped or sized duct up to 220 mm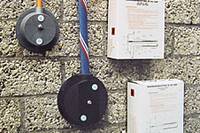 Duct sealing system type MD I
Duct sealing system MD I has been developed for sealing of ducts containing pliable cables which can be bent to a small radius.This system allows vulnerable cables to be positioned along the wall to where they are needed.

MDI-1 - Set for openings from 16 mm up to 32 mm and cables up to 12,5 mm diameter

MDI-2 - Set for openings from 32 mm up to 60 mm and cables up to 25 mm diameter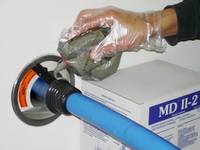 Duct sealing system type MD II
Duct sealing system type MD II has been developed to provide an effective and simple solution to all gas and watertight duct sealing requirements.

MD II-0, diameter up to 160 mm
MD II-1, diameter up to 125 mm
MD II-2, diameter up to 110 mm
MD II-3, diameter up to 50 mm
MD II 250 mm x 250 mm cap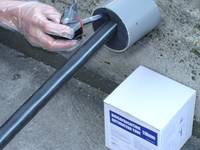 Duct sealing system type MD III
In situations where the opening of the duct is difficult to reach or where different openings are closely aligned or positioned, the duct sealing system type MD III provides an effective solution.

MDIII - 50mm duct sealing system for openings up to max. 50 mm
MDIII - 75mm duct sealing system for openings up to max. 75 mm
MDIII - 110mm duct sealing system for openings up to max. 110 mm
MDIII - 160mm duct sealing system for openings up to max. 160 mm
MDIII - 200mm duct sealing system for openings up to max. 200 mm
MDIII - 220mm duct sealing system for openings up to max. 220 mm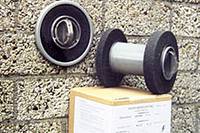 Duct sealing system type MD IV
Duct sealing system type MD IV is suitable for quick and easy sealing of ducts whereby cables or pipes have to be installed at a later date. The system provides a 100% gas and watertight seal.

MD IV-1 for openings from Ø 75 up to Ø 95 mm
MD IV-3 for openings from Ø 95 up to Ø125 mm

MD IV-4 for openings from Ø125 up to Ø160 mm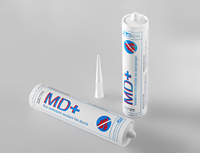 MD+ Fire Resistant Sealant

ISP's high quality MD+ Sealant is a fire resistant and flexible one-component product. This fire resistant sealing compound is based on a silicon combination. After application, the thixotropic compound cures with atmospheric moisture to form a durable fire, gas & watertight seal.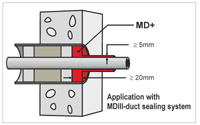 MD III in conjunction with MD+

The MD III duct sealing system can be made up to 2 hrs fire resistant by applying our MD+ sealant over the top of the standard MD III seal. This seal can be used in vertical or horizontal ducts.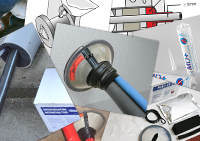 Please download this full catalogue of all our duct sealing products.