Home
Company Profile
Products & Services
Suppliers
- Partex
Contact


Etech Components
e: sales@etech
t: +44(0)1744 762 929
f: +44(0)1744 762 930

Customized Pre-Printed Markers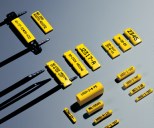 Overview
Cut the cost of marking by half by using the Partex customized system. Choose any of our standard cable markers, send us your marking information, and we will produce, sort and pack your markers in next to no time.
Cable, wire and component marking system for more efficient installation.
Customized multi-character marking on one single sleeve.
Inexpensive, fast and correct marking.
Flexible design.
Rational installation.
No wastage, reduced stock-keeping.
Marking information can be given to Partex as connecting diagram, wiring table, CD or email.
Reduces marking costs by up to 50%
Fast delivery.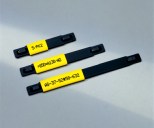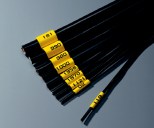 Customized PO Profile Markers
Oval marking profile for customized cable and wire marking.
Available pre-printed from Partex to your specifications.
PO profile can be fitted directly onto wires from 0.25mm² to 16.0mm²
The PO-10 size can directly be mounted on POH holders for cable and pipe marking.
Available packaged loose in bags, on POH holders or mounted in strips.
Can also be printed on-site with the ProMark portable marking machine or the SP2000 marking machine.
See the PO profile page for further details.
PO Markers
PARTEX PART
NUMBER
DESCRIPTION
DIAMETER RANGE
(mm NOMINAL)
PO 01
Customized marker
1.3—1.8
PO 02
Customized marker
1.7—2.2
PO 03
Customized marker
2.0—2.5
PO 04
Customized marker
2.2—2.8
PO 05
Customized marker
2.7—3.5
PO 06
Customized marker
3.2—4.0
PO 07
Customized marker
3.8—4.7
PO 08
Customized marker
4.6—5.5
PO 09
Customized marker
5.6—7.0
PO 10
Customized marker
6.5—8.0
PO 11
Customized marker
7.0—9.5
PO 12
Customized marker
7.5—10.0
PO 14
Customized marker
9.5—12.0
PO 16
Customized marker
11.5—14.0
PO 18
Customized marker
13.5—16.0
PO 20
Customized marker
15.5—18.0
PO 22
Customized marker
17.5—20.0
PO 24
Customized marker
19.5—22.0
PO 26
Customized marker
21.5—24.0
PO 28
Customized marker
24.0—28.0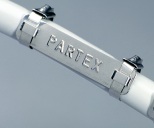 Customized Stainless Steel Markers
Customized version of our PKS Marking System.
Made of acid resistant stainless steel for hostile environments and resistance to fire damage.
Pre-printed multi-characters markers to your specification.
Fax or email your marking data to Partex for fast delivery.
Fixed in place using Partex stainless steel cable ties and tensioning tools.
Stainless Steel Markers
PARTEX PART
NUMBER
DESCRIPTION
MAXIMUM CHARACTERS
ONE/TWO ROW PRINT
PACKAGING
PKS 1040
Customized marker
8/22
Sorted
PKS 1060
Customized marker
13/36
and
PKS 1080
Customized marker
19/54
mounted
PKS 10100
Customized marker
25/70
in strips
PKS 10120
Customized marker
30/86