Home
Company Profile
Products & Services
Suppliers
- Partex
Contact


Etech Components
e: sales@etech
t: +44(0)1744 762 929
f: +44(0)1744 762 930

The POZ10 Cable Marker and PKH-POL Carrier Strips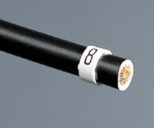 Overview
Halogen-free oval combination marker, used for cable and wire marking, electrical, pneumatic, and hydraulic applications.
For larger diameters the POZ10 marker is used in conjunction with the halogen-free PKH carrier strips, enabling any size of cable or pipe to be marked.
Specially designed oval profile eases installation and means the marker maintains its position when fitted.
Designed to interlock — enabling easy alignment of multiple character markings.
POZ10 Cable Markers

| PARTEX PART NUMBER | PACKAGING |
| --- | --- |
| POZ 10 | 250 piece compactadisc |

Specification

| | |
| --- | --- |
| MATERIAL: | Zerex, thermoplastic polyether based polyurethane mixture. The material is free from halogen, cadmium and silicon. |
| COLOURS: | Black on white or black on yellow all ex-stock. |
| PRINT: | High resolution etching inkjet. |
| TEMPERATURE: | The shape is permanent between -30°C and +90°C. |
| PROPERTIES: | Flammability resistance to UL94-V0, good resistance to chemicals, temperature and UV radiation. |
| STANDARD LEGENDS: | 0-9, A-Z, +, -, /, earth, or blank. Special symbols available to order. |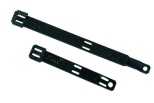 Halogen-Free PKH Carrier Strip
Flat, hard-wearing holder with fastening holes for cable ties, wires, screws and rivets.
Four attachment points allow length adaption.
Designed for multi character marking using POZ10, custom-printed POZ markers or on-site marking with the ProMark portable marking machine, or SP2000 marking machine.
No tools needed for installation.
PKH Carrier Strips

| PARTEX PART NUMBER | DESCRIPTION | PACKAGING |
| --- | --- | --- |
| PKH 70 POL | 10 digit carrier strip, halogen free | 100 pieces |
| PKH 110 POL | 20 digit carrier strip, halogen free | 100 pieces |
Application