Home
Company Profile
Products & Services
Suppliers
- Partex
Contact


Etech Components
e: sales@etech
t: +44(0)1744 762 929
f: +44(0)1744 762 930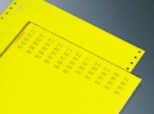 Overview
Halogen-free label material for cables, wires, cabinets and components.
Print markers on-site using a matrix printer, laser printer or plotter.
Easy to separate polyester foil, specially pre-processed for printing.
Mark wires in combination with PT Holders.
Mark cables and pipes in combination with PM holders and cable ties.
Mark control panels and components in combination with transparent holders and the PS rail system.
Fast, convenient marking on-site with Partex Winsign or X-Soft software for Windows.
PF Labels

| PARTEX PART NUMBER | DESCRIPTION | No. PIECES PER PACK | HOLDER |
| --- | --- | --- | --- |
| PF 10/15 | White Inserts | 792 labels per sheet/10 sheets per pack | PT |
| PF 10/15 | Yellow Inserts | 792 labels per sheet/10 sheets per pack | PT |
| PF 10/21 | White Inserts | 594 labels per sheet/10 sheets per pack | PT, PM |
| PF 10/21 | Yellow Inserts | 594 labels per sheet/10 sheets per pack | PT, PM |
| PF 20/17.5 | White Inserts | 352 labels per sheet/10 sheets per pack | PM, PS |
| PF 20/17.5 | Yellow Inserts | 352 labels per sheet/10 sheets per pack | PM, PS |
Specification

| | |
| --- | --- |
| DESIGN: | Perforated label material. Folded sheets A4 width and tractor feed. 12" sheet length with tear initiation. |
| MATERIAL: | Polyester foil, specially pre-processed for printing. |
| COLOURS: | Available in white and yellow. |
| TEMPERATURE RESISTANCE: | From -30°C to +120°C. NB. Withstands laser printing. |
| DURABILITY: | Withstands most solvents. For use in extreme environments, please contact us. |
Application