Home
Company Profile
Products & Services
Suppliers
- Partex
Contact


Etech Components
e: sales@etech
t: +44(0)1744 762 929
f: +44(0)1744 762 930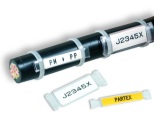 Overview
Transparent holder for on-site marking of larger diameter cables and pipes.
Holder for Partex PF, PFC, PL or PP marking labels.
PF labels are printed using your existing computer and dot matrix or laser printer.
PFC marker tags are produced on-site using the X-Card Marking System.
The PP flat markers and PL self-adhesive markers are both printed with the ProMark Pro portable marking system.
PM holders are securely fastened in place with cable ties.
The label is easily inserted into the holder providing fast installation and protects the marking.
Fast, convenient marking on-site with Partex Winsign or X-Soft software for Windows.
PM Holders
PARTEX PART
NUMBER
HOLDERS PER PACK
FOR USE WITH
PM 10/33
100
PF 10/21, PFC 04212, PFC 04215, PFC 04218, PFC 04221
PM 20/33
100
PF 20/17.5, PP 090
PM 20/66
50
PF 20/17.5, PP 090
PM 24/66
50
PL 120, PFC 09518
Specification

| | |
| --- | --- |
| DESIGN: | Holder for marker tags, features punched holes for mounting with cable ties. The labels or tags are easily pushed into the holder and will be protected from dust, oil etc. |
| MATERIAL: | Cadmium and silicon free soft PVC to special Partex formula. |
| COLOUR: | Transparent. |
| TEMPERATURE: | Shape permanence from -30° to +60°. |
| PROPERTIES: | Flammability resistance to UL94-V0; Good resistance to UV, chemicals, temperature and ageing. |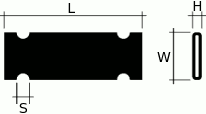 Dimensions

| PART | LENGTH (L) mm | THICKNESS (H) mm | WIDTH PUNCHED HOLE (S) mm | HOLDER WIDTH (W) mm |
| --- | --- | --- | --- | --- |
| PM 10/33 | 33 | 1.5 | 3 | 6 |
| PM 20/33 | 33 | 2.2 | 3 | 11.3 |
| PM 20/66 | 66 | 2.2 | 3 | 11.3 |
| PM 24/66 | 66 | 2.5 | 3.9 | 13.9 |
Application