Home
Company Profile
Products & Services
Suppliers
- Partex
Contact


Etech Components
e: sales@etech
t: +44(0)1744 762 929
f: +44(0)1744 762 930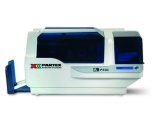 Overview
On-site marking system for cables, wires, control panels and components using the PC controlled X-Card marker printer.
NEW! — Fast, clean, thermal transfer printing in monochrome or colour.
Prints onto Partex PFC cards in credit card format with easy detachable marker tags for various holder systems and direct marking applications.
A user friendly compact system with high production capacity.
The X-Card system considerably reduces the total marking costs.
X-Card Printer

| PARTEX PART NUMBER | DESCRIPTION |
| --- | --- |
| MK3 - P330 - CE - KIT1 | X-Card Kit. Consists of MK3 printer, Winsign NG software, power and data cables, cleaning kit and F301 black ribbon. |
| MK3 - F301E | Printer ribbon F301 black. For optimum print quality on PFC cards. |
| MK3 - RC330 | Printer ribbon RC330 colour. Full colour printing YMCKO ribbon. |
| MK3 - CLEANKIT - P330 | Cleaning kit for MK3. Includes swab, cleaning cards and roller. |
| MK3 - CR | Cleaning roller for MK3. Removes dust from the card before printing. |

Specification
PRINTER TECHNOLOGY:
Thermal transfer with recommended printing ribbon.
RESOLUTION:
300 dpi.
SPEED:
4 seconds per card for resin black.
25 seconds per card full colour single sided.
COMMUNICATION INTERFACE:
USB 1.1 cable included.
OPERATING TEMPERATURE:
15°C to 70°C.
OPERATING HUMIDITY:
20% to 65% non-condensing.
STORAGE TEMPERATURE:
-5°C to +70°C.
DIMENSIONS:
462 x 239 x 256mm (L x W x H).
SOFTWARE:
Winsign NG.
WEIGHT:
7.0 Kg.
POWER CONNECTION:
110 VAC - 240 VAC, 50 - 60 Hz.
FCC Class B, CE, UL and CUL approved.
RIBBON:
Monochrome 1500 (black), YMCKO (colour).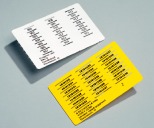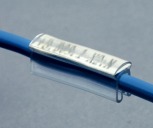 PFC Marker Tags
Credit card format, individually cut tags for use with the X-Card Printer
Tags can be used with the PT+ holder system for wire marking.
PFC tags can be mounted using PS transparent holders and the unique rail system for control panel and component marking.
Larger cables and pipes can be marked in conjunction with PM holders, which are fastened in place using cable ties.
Additional project information can be marked directly onto the card.
The injection moulded cards can be used as a mounting tool.
Available in white or yellow.
PFC Marker Tags

| PARTEX PART NUMBER | DESCRIPTION | TAG SIZE (L x H) mm | QTY PER CARD | QTY PER BOX | FOR USE WITH |
| --- | --- | --- | --- | --- | --- |
| PFC 04212 | Marker tag for wire marking | 12 x 4.2 | 21 | 525 | PT+, PTZ+, PM |
| PFC 04215 | Marker tag for wire marking | 15 x 4.2 | 21 | 525 | PT+, PTZ+, PM |
| PFC 04218 | Marker tag for wire marking | 18 x 4.2 | 21 | 525 | PT+, PTZ+, PM |
| PFC 04221 | Marker tag for wire marking | 21 x 4.2 | 21 | 525 | PT+, PTZ+, PM |
| PFC 07533 | Marker tag for cable marking | 33 x 7.5 | 9 | 225 | PTZ+ |
| PFC 09518 | Marker tag for component/cable marking | 18 x 9.5 | 20 | 500 | PM, PS |
| PFC 09540 | Marker tag for component marking | 40 x 9.5 | 8 | 200 | Cable tie mounting |
| PFC 09580 | Marker tag for component marking | 80 x 9.5 | 4 | 100 | Cable tie mounting |
| PFC 07014 | Marker tag for component/terminal marking | 14 x 7.0 | 25 | 625 | Direct mounting |
| PFC 12726 | Marker tag for component/terminal marking | 12.7 x 25.4 | 9 | 225 | Direct mounting |
| PFC 45080 | Marker tag for component/terminal marking | 45 x 80 | 1 | 80 | Direct mounting |
| PFC 15027 | Push button tag for holder | 15 x 27 | 9 | 225 | Direct mounting |
Application