Steel Armoured Cable Stripper - SACS Tool by E-Tech

With the banning of blades on site by most major contractors, the SACS Tool (Steel Armoured Cable Stripper) is a welcome breath of fresh air.

Enquiries:
e: sales@etechcomponents.com
t: +44(0)1744 762 929
f: +44(0)1744 762 930



Download SACS Tool (Steel Armoured Cable Stripper) Datasheet

SACS Flyer

Steel Armoured Cable Stripper - SACS Tool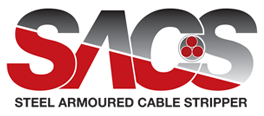 The SACS Tool (Steel Wire Armoured Cable Stripper) is a revolutionary new tool that can be used on all concentric type cables, copper pipe and plastic conduit.

It will cut both circumferentially and longitudinally with less effort and more accurately than present methods.

It's compact and ergonomic design enables the user to terminate cables easier in confined spaces and far more safely. Made from light weight aluminium and precision engineered steel parts this tool is built to withstand repeated usage.

The SACS Tool (Steel Wired Armoured Cable Stripper) has been designed by an experienced electrician who appreciates the hazards of stripping cable using hacksaw and utility knife.

Use SACS Tool (Steel Armoured Cable Stripper) to quickly, safely, and accurately strip both armoured and non armoured cables.
---

With the SACS Tool (Steel Wire Armoured Cable Stripper) you will:

Save Time 30% faster than using a hacksaw and knife

Improve Safety Safer tool means a reduced risk of injury

Save Money Increased productivity and reduced injury associated costs

Reduce Waste Increased accuracy means fewer mistakes

Comply with 'Safe Working Practice'

Minimise the risk of injury and reduce the risk of substantial damages


With a 3 year guarentee (excluding blade) the SACS Tool (Steel Armoured Cable Stripper) is a cost effective solution to
stripping down your 12-35mm diameter cables.

Easy to use in confined spaces, this small and robust tool will quickly become a large
asset to your business.
Enquiries:
e: sales@etechcomponents.com
t: +44(0)1744 762 929
f: +44(0)1744 762 930



Download SACS Tool (Steel Armoured Cable Stripper) Datasheet

---

Frequently Asked Questions
Can the tool be used by either hand? Yes it can be used by left and right handed tradespeople.

What size cables can the SACS tool cable stripper act on? The tool works on cables with diameters from 12mm(3 core 2.5mm) upto 35mm (3core 70mm)

Can it strip the second layer of insulation? Yes, but as with a sharp knife extra care needs to be taken.

How many operations can the blade perform? The suppliers of the blade estimate that 300 operations should be possible.

Can the SACS tool cable stripper be used to strip other cables? The tool has been used to strip YY cable with some care.

How do I maintain the tool? Occasional cleaning and oiling are advised. Check and tighten all pins/screws.

What skill level do you need to be able to use it? It is easily learnt and far simpler than traditional methods of Hacksaw and knife. Repeated use will improve user results.

How does the SACS tool cable stripper improve on other products? The SACS tool is the only product that can act on both insulation and steel strands and cut in both directions.

How do you stop the strands "hooking" when breaking off at cut point? Insufficient cut depth and / or poor quality cable lead to this effect. The outer sheaf on some cables allow the strands to flex which causes the "hook". Apply finger tip pressure at snap point to reduce.

Enquiries:
e: sales@etechcomponents.com
t: +44(0)1744 762 929
f: +44(0)1744 762 930



Download SACS Tools (Steel Armoured Cable Stripper) Datasheet